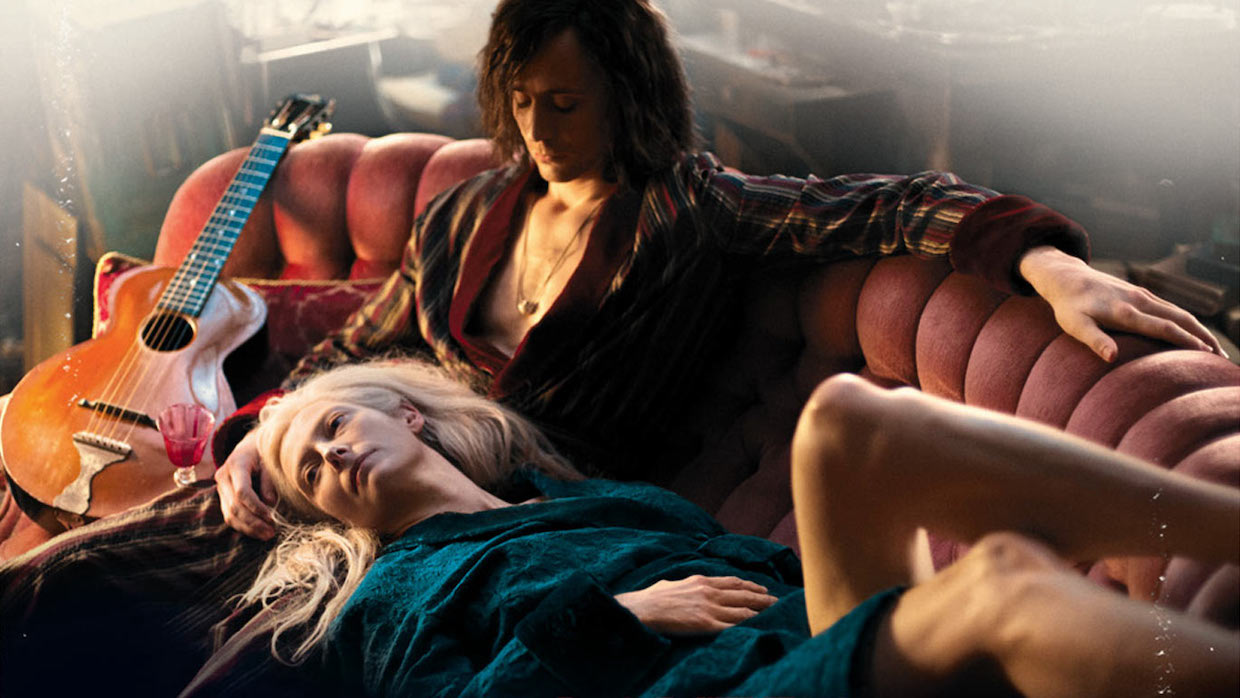 Tom Hiddleston and Tilda Swinton in Only Lovers Left Alive.
After a four-hour flight delay (owed to a malfunctioning back-up system accessory, subsequent plane evacuation and a lengthy re-fueling process), I arrived in New Orleans exhausted but still, miraculously, eager to spend much more time sitting in a shifting rotation of seats. Even if I wanted to, I wasn't entitled to complain much. I'd been invited to cover the annual genre-themed Overlook Film Festival, now in its seventh year, and was genuinely thrilled by the opportunity. As a relatively green (not to mention newly full-time) magazine staffer, longtime horror obsessive and someone who'd yet to visit New Orleans, Overlook presented itself as the perfect first-time destination festival experience. 
My official introduction to this year's slate occurred on my car ride from the airport. The festival coordinated a very lovely volunteer named Blake to pick me up (even recalibrating for my extensive tardiness), who happened to be scheduled to scoop two other "VIP" Overlook attendees arriving around the same time. Operating off of approximately two-and-a-half hours of sleep, I initially didn't recognize one of my fellow riders as David Farrier—whose 2016 doc Tickled I enjoyed and latest film, Mister Organ, I was hoping to catch during the fest—despite immediately clocking his Kiwi accent. He sat shotgun, anyway, and I didn't see much of him save for the Nine Inch Nails cap he wore (and which I admired). Sitting beside me was director Matt Angel, whose anti-fascist splatter film The Wrath of Becky (which he co-directed with Suzanne Coote) seemed like a good time. "Even the critics who are like, 'Meh,' can't deny that watching Nazis get killed by a teenage girl is just fun," he told me. When I finally came to my senses and told David I was a fan of his work, Matt, who also hadn't made the connection, endearingly chimed in: "My wife is going to flip!" 
Our driver suggests dropping me off first so that David and Matt can also benefit from briefly touring the French Quarter, the famed (and very touristy) neighborhood my hotel was in. As we crossed Bourbon street, David asked Blake if being a New Orleans native meant they would advise skipping the seedy strip. "Personally, there's no reason for me to be there," they replied. "If you want to drink daiquiris and have strippers chat you up, go ahead." After a brief pause, "But you all should go." 
World premiering at Overlook, Renfield, the NOLA-set opening night selection and my first film of the fest, felt as authentically New Orleans as I did after roaming the immediate vicinity of my hotel for about an hour before the screening. For those who've managed to avoid Universal's heavy promotional cycle, the film follows Dracula's (Nicolas Cage) titular henchman and "familiar" Renfield (Nicholas Hoult) who is able to harness a fraction of his master's power by eating bugs. Tasked with finding "innocents" for Dracula to feast upon, he responds to the consent pressure by attending a support group for individuals in abusive relationships. Through his involvement in the group, he unintentionally becomes embroiled in a dispute with mob boss Teddy Lobos (Ben Schwartz, under-advertised scene stealer) and falls for officer Rebecca Quincy (Awkwafina), who doesn't know her extremely pale and Vicotiran-sounding crush is actually undead. 
Admittedly, I didn't have high hopes for this specific brand of horror-comedy to land for me, but any air of authenticity about it was immediately snuffed out when Awkwafina's uninspired cop (and supposedly lifelong Big Easy resident) character shouts, "Meet me at Cafe Du Monde in 20 minutes!" Though the film had been receiving (far too generous) audience whooping and applause until this point, this line was thankfully met with a unanimous groan. Nicholas Hoult was fine, I guess, but I'm convinced that his Renfield character was scientifically engineered in a lab to irk me, specifically. (Sure, I enjoyed The Menu enough, but let's please collectively acknowledge that it's a shame that Jake Lacy isn't rightfully eating Hoult's lunch by now.) Predictably, Nicolas Cage's turn as Dracula was by far the most entertaining facet of the film, enhanced by gnarly practical effects make-up and his eternal commitment to the bit. The obvious boon of his involvement in the film was only emphasized by his attending the post-screening Q&A with director Chris McKay and screenwriter Ryan Ridley in tow. The actor brought a fan up on stage to show off his fresh ink of Cage as Dracula, revealed how Iggy Pop and Mick Jagger influenced his performance and discussed his first vampiric turn on film in 1988's Vampire's Kiss. However, I can't shake the disappointment that he didn't cite another demonic (and much more loyally portrayed) NOLA character he's played: Lieutenant Terence McDonagh in Werner Herzog's Bad Lieutenant: Port of Call New Orleans. Then again, I'm also peeved I didn't get to see Cage's pyramid tomb at St. Louis Cemetery No. 1 (which the IRS failed to seize after a so-called "tax debacle" nearly 15 years ago). 
After shuttling back from the Prytania Uptown theater location on a fleet of yellow school buses hired by the fest, I arrived in the French Quarter once again to catch Jim Jarmusch and Carter Logan's band SQÜRL at the Vampire Ball party to celebrate Overlook's opening night. As to be expected from a crowd reconvening in huge numbers (spiking my somewhat latent COVID anxiety) after quite a bit of time away, their set was slightly overshadowed by conversation. The inherent nature of their backing soundtrack vibe, however, worked pretty perfectly for the setting, and the pedal-heavy warble of their sound solidified my desire to catch a tenth anniversary screening of Only Lovers Left Alivethe next day. It's been a nagging blind spot of mine, and I figured that Jarmusch and Logan's post-screening Q&A would at least be fruitful enough to produce enough content for a couple Instagram stories. (It was!) There's only so much more original critical insight I can muster for a film that's a decade old, but just directly comparing it to Renfield made me appreciate how funny, sexy, well-acted and wonderfully written Only Lovers is. Tilda Swinton and Tom Hiddleston are thoroughly convincing as several hundred year old paramours, and Mia Wasikowska and Anton Yelchin add a wonderful tension and texture to each lead vampire's broader personal perspective. SQÜRL's music (made explicitly for the film, and which stands in for Hiddleston's reclusive audiophile's own spellbinding output), Dutch lute player Jozef van Wissem's original score and Marco Bittner Rosser's gorgeously cluttered production design between Detroit and Tangiers truly work to elevate Only Lovers into a fully-realized vision. There's also a lot to glean in terms of Jarmusch's own filmic evolution: the constant reference to zombies, at the very least, must have had some influence on his most recent feature, The Dead Don't Die, which didn't feel anywhere near as magical or kinetic as Only Lovers did. 
Upon receiving confirmation that Danny and Michael Phillipou's Talk To Me would be that night's secret screening (which I realized my boyfriend rightfully predicted weeks earlier), I made sure to confirm my attendance in what was guaranteed to be a fully-packed theater. I caught the film during its world premiere at Sundance while attending virtually earlier this year, but stayed up way too late watching it due to my one-time screening window being set to expire. I also remember wishing I wasn't watching the film alone with all-too-convenient access to my phone (but honestly, this played well into the film's phone-frenzied central theme). I wasn't sure exactly how much the film's buzz out of Sundance had carried it, but nonetheless found it very funny when festival directors Michael Lerman and Landon Zakheim finally introduced the film. Upon announcing that we were about to watch a forthcoming A24 title, a woman in the audience literally shrieked with excitement. When they clarified the film was Talk To Me, garbled whispers indicated that most audience members—despite camping out for at least a few hours to catch the secretive offering—were probably unfamiliar with it. When Michael warned that it was "the scariest horror movie" he's seen in recent years, excitement was finally drummed up. 
To be fair, there's a lot about Talk To Me that works really well for me, but I'd never go so far to say that it's really that scary. Gorey and unsettling? For sure. But there's something missing within the film's emotional core that prevents it from successfully burrowing under one's skin. This might be owed to the directors—Australian-born, LA-based twin brothers—cutting their teeth on RackaRacka, the horror YouTube channel they've uploaded videos to since 2013. The two also crewed on Jennifer Kent's Aussie horror touchstone The Babadook, yet Talk To Me's investigation of motherhood, mental health and grief is flimsy in comparison (notably, production company Causeway Films had a hand in both films). 
In any case, the trailer that A24 just dropped (you can watch that and read the brief, spoiler-free plot synopsis I wrote up here) does the film no favors. It essentially touts Talk To Me as just another "elevated" horror entry, completely obscuring its wickedly fun, Friday night sleepover ethos. As a friend (privately) commented on Twitter, it probably would have been marketed more accurately in the hands of Blumhouse—it's a thrilling, gore-heavy, emphatically teenage movie (bolstered by a really intriguing social media slant) that actually feels appropriately coupled with a very large popcorn. Unlike most obnoxiously quiet, aesthetically-guided recent horror projects, you won't be waiting for sparse volume-amped jump scares to shove fistfuls into your mouth.
There's probably something to be said about the film's focus on a Black, likely Aboriginal girl (Sophie Wilde) in the lead role. She's someone who's not particularly well-liked among Talk To Me's other characters, nor does she curry any tangible sympathy with the audience. One thing I wasn't expecting from my continued viewings at Overlook, however, is how Australian filmmakers were unpacking the tormented, violent legacies of their country and the colonialism which spawned it—observations which I'm eager to expand upon in my next dispatch.
First appear at Overlook Film Festival 2023: Vampires and Ventriloquist Demons (Renfield, Only Lovers Left Alive, Talk To Me)