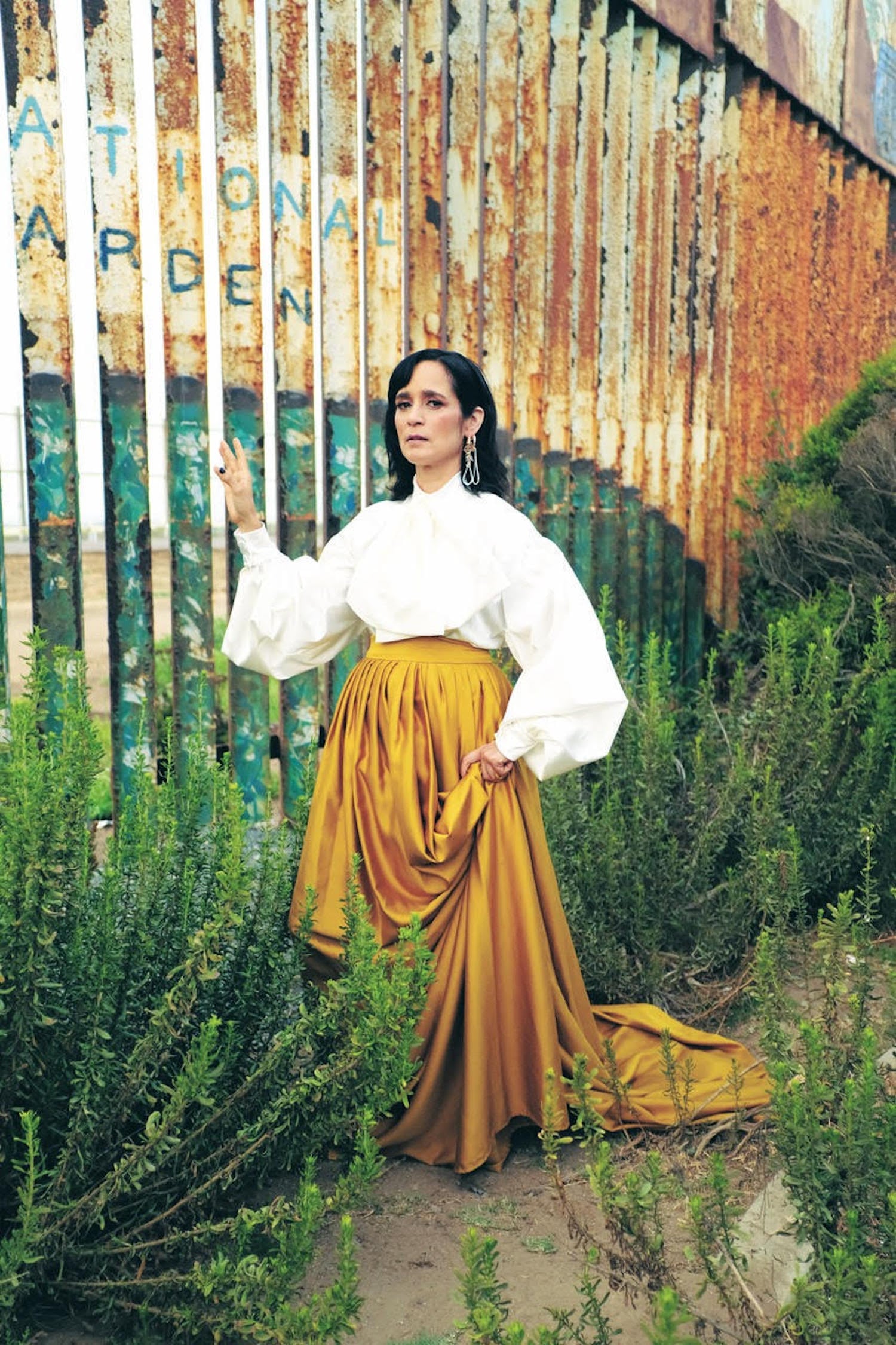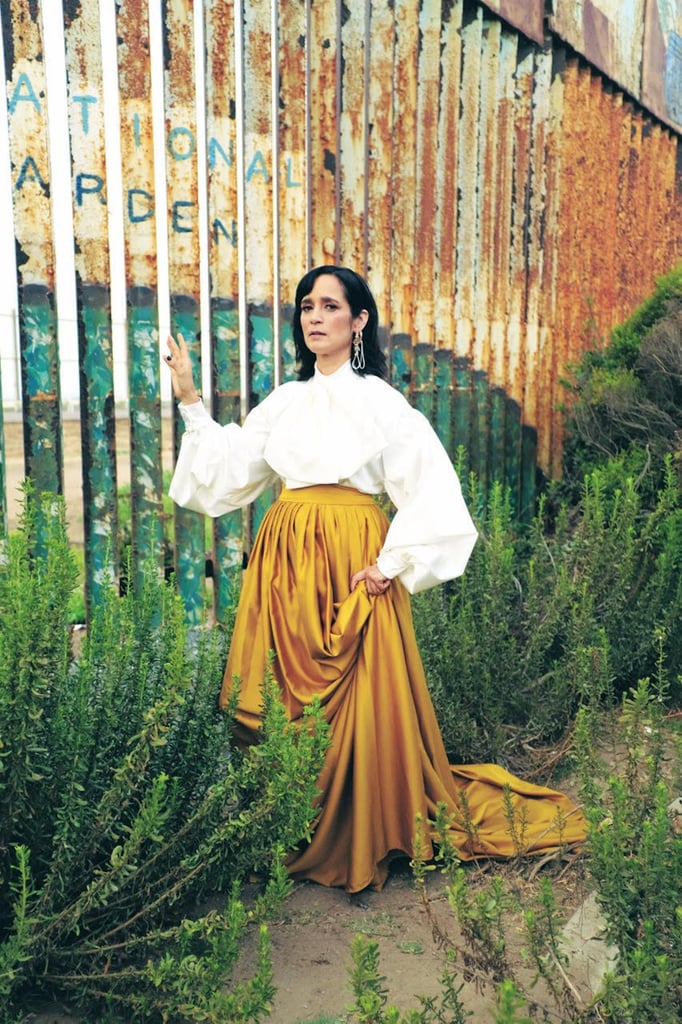 For centuries, being a woman meant never being able to tell your story. Our lives and our experiences were often narrated by men, filtered through the male gaze in the films we watched or the books we read.
But today, we're fortunate to live in a time where women can more fully express themselves. And when it comes to music, isn't it all just expression? At least that's how Mexican singer-songwriter Julieta Venegas sees it. Her eighth studio album, "Tu Historia," which was released in November of last year, was not only the first album she dropped in seven years, but it was also her way of expressing everything she has felt and experienced in recent years — it's her story, as told by her.
Throughout her 20-year career span, Venegas has really experimented with her sound. The artist has always identified as a songwriter but has transitioned from her alternative rockera days in the late 1990s to taking more of a pop songstress approach with her 2003 album "Sí" and her 2006 album "Limon y Sal" to eventually creating a sound of her own that's hard to classify. "Tu Historia" feels genre-less; it has elements of indie pop and rock en español throughout, creating a collection of songs that are so reflective and intentionally written, you can feel the various emotions Venegas experienced when she crafted each one.
"When I started writing the songs for this album, I wasn't really thinking of recording an album — I just thought I needed some space during the day with the pandemic, the quarantine, and everything to disconnect and be able to write for a few hours," Venegas tells POPSUGAR. "That's how I started actually writing it. I wasn't thinking about an album. I was just looking for a place to escape."
Unlike some of the songs Venegas has become famous for (like her 2006 breakup anthem "Me Voy"), "Tu Historia" isn't a breakup album. Instead, each song is a different story relating to a feeling or a conflict she was reflecting on and processing.
"I always consider songs like stories," she says. "For example, 'Mismo Amor' is about a breaking point. It's not a breakup. It's sort of a tension between two people who want to be together, but seem to not be able to make it work."
But then she also has songs like "Despechada Mexicana," a song about being able to love yourself through a hard breakup. "Every time I try to talk about breakups, I try to put a little humor in it. It's more about self-love than the breakup," she explains. "Like one person saying, 'This is gone, but I'm going to be able to love myself.' That's something we forget sometimes."
"Brillaremos" is one of the most captivating songs on the album. It combines elements of '80s-style pop and thumping percussion with more classical instrumental sounds that infuse emotion into the track.
Some of that was influenced by Alex Anwandter, a Chilean electro-pop artist who produced and cowrote the album and whose influence is apparent in songs like "Brillaremos," "Mismo Amor," Pura Fantasia," and "Dime La Verdad." Venegas says she's always been "a crazy fan" of his.
There's also a nostalgic feeling in many of the songs in "Tu Historia," including "La Nostalgia," a song that's quite literally about that. Venegas doesn't consider herself a nostalgic person, but she also deeply understands how our experiences mold us into the people we become. She also emphasizes the importance of taking time to reflect on previous relationships and finding the lessons in them.
And while all her albums explore the different stages of love , "Tu Historia" represents the reflection she believes is necessary after a romantic relationship ends. It's the reflection we often don't give ourselves when we're too caught up in the pain, the disappointment, the longing for things to go back to how they were, and the desire to find new love . Everything is written from a very personal lens that she feels she wouldn't have been able to tap into had it not been for the pandemic.
"I definitely think that we all went through something so strong with the pandemic, the quarantine, and the unexpectedness of it all — the sudden change that we all lived through — that it's impossible if we didn't go inside and have some sort of a personal crisis, reencounter, or reconnection," Venegas says. "I'm sure all of us went through something like that individually."
Back in 2019, Venegas was going through a period of time in which she wasn't creating a lot of music. But wanting to process the emotions that came up during the pandemic led her back into it. Working with Anwandter helped, too.
"All the work with Alex was just pretty amazing. He's just such an amazing producer, and he's so serious and rigorous," she says. "It's like it's something that I really needed, to work with someone who I felt was bringing me back to something that I needed."
Venegas, 52, is at a really exciting place in her life and in her career. She's very much enjoying being a mom to her 12-year-old daughter Simona, who is developing her own taste and appreciation for music. She also no longer needs to prove her talent. In many ways, Venegas has already proven herself an icon and even a pioneer in Latin music — though she refuses to take on the latter label.
But the fact that some of today's biggest music artists have reached out to collaborate with her is a testament to her groundbreaking sound. Notably, that includes Bad Bunny, who worked with Venegas on the 2021 "Lo Siento BB:/" single, produced by Puerto Rican producer Tainy. Not only did the song reach No. 2 on Billboard's Hot Latin Songs chart and No. 12 on the Billboard Global 200, but it also won a Latin Grammy for Best Reggaeton Performance and a 2023 Premio Lo Nuestro nomination for Urban-Collaboration of the year.
"I obviously knew Bad Bunny's music, but I didn't know Tiny personally. I had never spoken to him. He wrote to me, and it was really cool because he said, 'I was wondering if you'd like to collaborate. I have this song, and I would like to ask you to write an answer for it,'" Venegas recalls. "I just thought it was the best way to invite somebody to collaborate. I think the genius of it was Tiny. He's the one who thought of bringing together two different personalities and making it work."
And Venegas continues to be open to new things: she's letting the natural creative process take the lead. She's excited to be creating music at a time when Latin music has gone global and is finally receiving the recognition and accolades it's always deserved. This spring, she kicks off her 2023 tour, starting with a show in her hometown of Tijuana in Mexico.
"I love it, because we had to wait a long time. For me, I'm from Tijuana, and I'm bilingual, but for some reason, I just could never write in English. I just feel like my emotional language is Spanish. I think it's the same thing for a lot of artists," she says.
Venegas believes that the changes that have come with how we listen to music — like streaming — have made it possible for Latin music artists like herself and Bad Bunny to get the global reach they otherwise might not have been able to reach.
"I love it when I see Anglo artists singing [our music] in Spanish. I think it's really cool."
Image Source: Melissa Lunar
First appear at Julieta Venegas Wants to Be the Narrator of Her Own Story