Jamie Foxx and Teyonah Parris's "They Cloned Tyrone" Is Coming to
Netflix
This Summer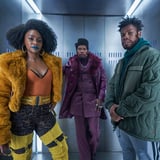 Image Source: Netflix
Things are about to get really weird in Netflix's upcoming sci-fi comedy "They Cloned Tyrone." The movie, which Netflix announced on Jan. 18, will be heading to the screener this summer and it stars John Boyega, Teyonah Parris, and Jamie Foxx, who end up finding out way more about the world than they bargained for. Netflix's logline for the film reads, "A series of eerie events thrusts an unlikely trio onto the trail of a nefarious government experiment in this pulpy mystery caper."
Foxx, who recently starred in Netflix's "Day Shift," stars as Slick. Parris, who most recently appeared in "WandaVision" and is set to appear in "The Marvels," plays Yo-Yo. Meanwhile, Boyega, who starred in September's "The Woman King," plays Fontaine.
In the first "They Cloned Tyrone" trailer, released in September 2022, the trio uncover a government conspiracy that sees agents listening in on and monitoring the lives of Black people, so they can make disappear them and replace them with clones. The NSFW clip doesn't get into why the government is doing this or how Slick, Yo-Yo, and Fontaine intend to stop their plan, but it already looks like it'll be one very fun time.
"They Cloned Tyrone" is directed by Juel Taylor, who also wrote "Creed II." Watch the trailer ahead and learn more about who else is in the cast.
"They Cloned Tyrone" Trailer
"They Cloned Tyrone" Cast
"They Cloned Tyrone" stars Boyega, Parris, and Foxx. Kiefer Sutherland also appears in the film, as well as "P-Valley"'s J. Alphonse Nicholson.
"They Cloned Tyrone" Release Date
"They Cloned Tyrone" will be released on Netflix on July 21.