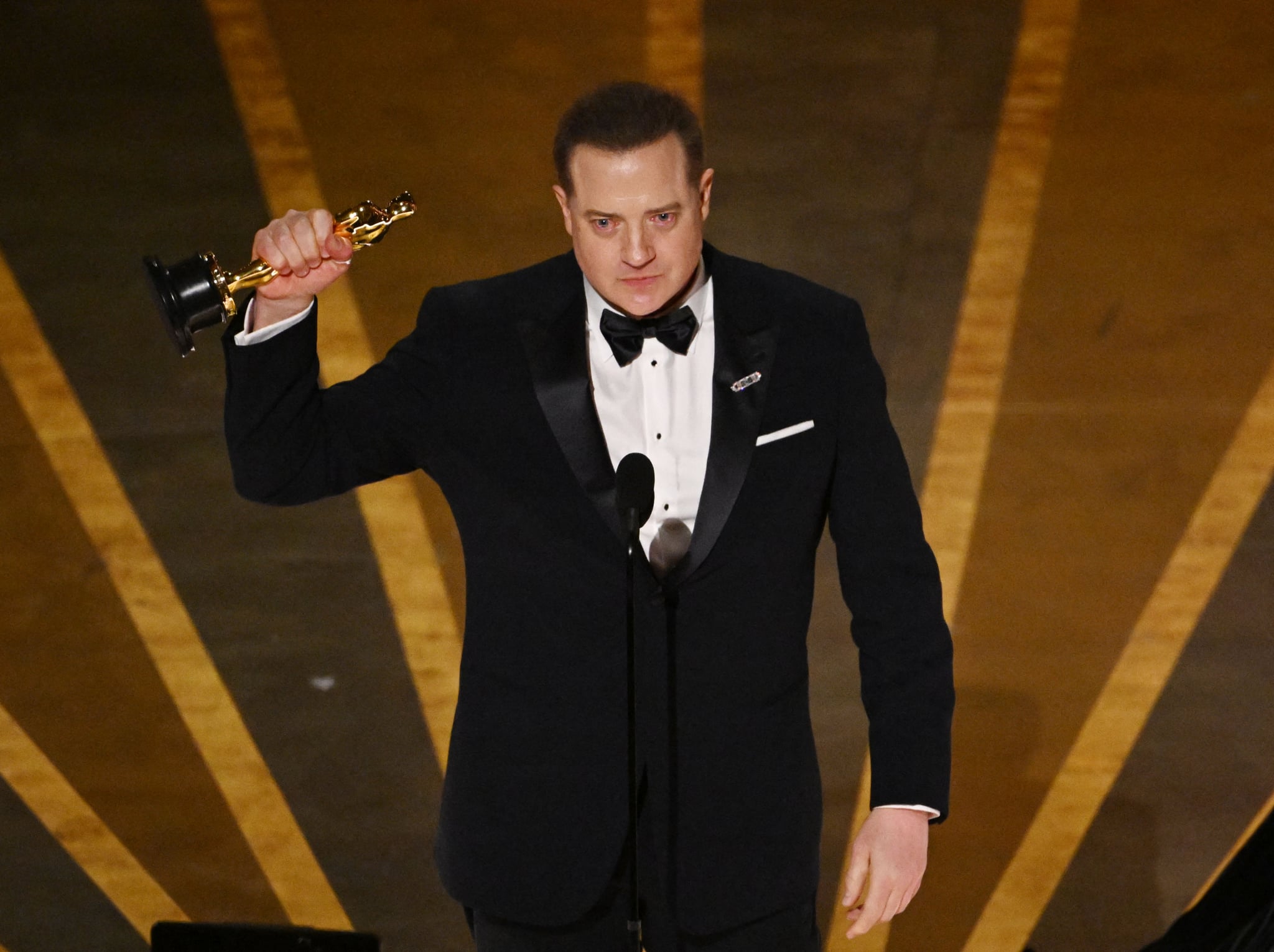 Image Source: Getty / Patrick T. Fallon
Brendan Fraser is officially an Oscar winner! On March 12, the 54-year-old actor took home the golden statuette for best actor in a leading role for his performance as Charlie in "The Whale." Fraser was up against some stiff competition, beating out Austin Butler ("Elvis"), Colin Farrell ("The Banshees of Inisherin"), Paul Mescal ("Aftersun"), and Bill Nighy ("Living").
During his speech, an emotional Fraser thanked the movie's cast and crew before tearfully launching into a metaphor about his career. He also shouted out his three sons, Griffin, Holden, and Leland, whom he shares with ex-wife Afton Smith, as well as girlfriend Jeanne Moore. Holden, Leland, and Moore were all present at the ceremony for Fraser's big night.
"I started in this business 30 years ago, and things — they didn't come easily to me, but there was a facility that I didn't appreciate at the time until it stopped, and I just want to say thank you for this acknowledgment, because it couldn't be done without my cast," Fraser said. "It's been like a bit of a diving expedition on the bottom of the ocean and the air on the line to the surface is on a launch being watched over by some people in my life, like my sons Holden and Leland and Griffin — I love you, Griffy! — my manager, JoAnne Colonna, Jennifer Plant, and my best first mate, Jeanne. Thank you again each one and all. I'm so grateful to you."
Fraser now joins the ranks of past winners, including Will Smith, Leonardo DiCaprio @LeoDiCaprio, Matthew McConaughey, Rami Malek, Tom Hanks, Jamie Foxx, and more. His appearance also marked his return to the Oscars after 20 years. In 2018, the actor alleged that Hollywood Foreign Press organizer Philip Berk sexually assaulted him in 2003 and questioned whether reporting the incident at the time had led to him being "blacklisted" from Hollywood.
Watch Brendan Fraser's Speech at the 2023 Oscars
Brendan Fraser Is Officially an Oscar Winner: "I'm So Grateful to You"