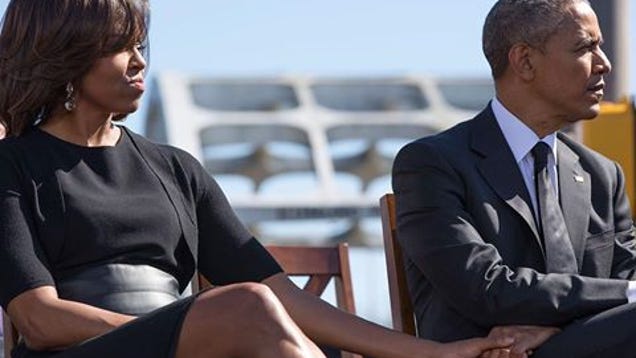 We all understand 2017 was a 12- month journey through vestibule of hell, and not even Barack Obama is going to persuade anybody otherwise. Prior to it's over, I'll take a minute to value that he invested all of 2017 pressing that stone up the hill. Each time something shitty occurred this year, there he was to provide a picture of mankind. Keep in mind the picture of a multi-racial group of kids he tweeted after Charlottesville? Keep in mind when he appeared at a high school since kids are the future? And now he's tweeting good things civilians made with the line "That's a story from 2017." It's as though we didn't simply endure a year of natural catastrophes and trampled-on wildlife sanctuaries, relaxing greenhouse gas guidelines, Sunday early morning armageddon frightens through Twitter, over 1,000 deaths in Puerto Rico and the United States Virgin Islands, Donald Trump's face, Donald Trump Jr.'s face, Steve Bannon's face, the loss of Princess Leia … felines most likely passed away, too.
Former Official White House professional photographer Pete Souza, on the other hand, invested all year negging Trump with inspiring Obama images, and it was wonderful. Here's an evaluation:
March 12 th, 2017: Kellyanne Conway recommends that the Obama Administration might have utilized microwaves to surveil Trump Tower.
March 24, 2017: the Affordable Care Act repeal stops working.
May 22 nd, 2017: the hand swat.
May 24 th, 2017: Donald Trump fulfills the Pope, and everyone looks unpleasant.
May 31 st, 2017: Covfefe
June 29 th, 2017: Trump tweets that Mika Brzezinski ("Crazy Mika") was "bleeding badly from a face-lift" throughout a see to Mar-a-Largo.
July 24 th, 2017: Trump provides an expletive-laced speech to the Boy Scouts consisting of extols crowd size.
July 25 th, 2017: Trump openly belittles Attorney General Jeff Sessions on Twitter.
August 30 th 2017: Five days after Hurricane Harvey made landfall in Texas, Trump is tweeting at the same time about Hurricane Harvey and about his survey numbers and THE WALL.
September 23 rd, 2017: Trump disinvites Steph Curry to the White House after Curry states he does not wish to go.
October 16, 2017: Trump declares Obama didn't call the households of fallen soldiers.
November 24 th, 2017: Trump tweets he took a "pass" on a Time"Man of the Year," which Time rejects.
And so much more. Here's to the informal governmental White House professional photographer of 2017.
Related youtube video: (not from post)