Some people are fans of the New York Giants. But many, many more people are NOT fans of the New York Giants. This 2023 Defector NFL team preview is for those in the latter group. Read all the previews so far here.
Your team: New York Giants.
Your 2022 record: 9-7-1, with a huge road playoff win in Minnesota to top it off. This was a remarkably successful season, but one that came with a regrettable, dime-flavored aftertaste.
The Giants came into 2022 still licking their blue wounds from three disastrous head coaches in a row: Ben McAdoo, Pat Shurmur (remember when he coached this team?! That happened once!), and final insult Joe Judge. With inhuman reluctance, owner John "Mister" Mara fired Judge after two miserable seasons, raided the Bills for a new GM/HC power structure, and had it pay off with New York's first winning season since 2016, featuring a 6-1 start to kick things off.
After that hot streak, things began to look more properly Giants, starting with a fourth quarter asswhipping at the hands of the Seattle Seahawks. Then they got run over by Jamaal Williams and Detroit. They got killed by CeeDee Lamb, once in September and again on Thanksgiving Day. They missed a 58-yarder at the end of overtime to tie Washington, in a game that very much deserved to have no formal victor. On Christmas Eve, they came back down from eight before the two-minute warning, and then lost anyway on a 61-yarder at the gun. For my own sake, here is the video of that kick:
Ah, memories. But back to New York. The Giants had the worst DVOA run defense of any team in the league, and that would rear its head in the Divisional Round when Philadelphia finished off a three-game sweep of them with a 38-7 victory (don't care for that score), featuring 268 yards on the ground. There was a slight chance that the Giants still could have clawed their way back into that game and kept the magic alive for at least another week, but then their coach punted those hopes away. And do you know why he punted that day? Because he knew that this team, at its core, wasn't that good. They were just happy to be there. They had a net point differential of -6 for the season, so everyone inside and outside the Giants organization knew the truth.
[lines up 16 megaphones in a row]
FLUUUUUUUUUUUUUUUUUUUUUKES. FRAUDS. FUCKING BULLSHIT LOSER FRAUDS, THAT'S WHAT YOU WERE. SEE HOW IT FEELS, YOU GAPING BLUE ASSHOLES. What, do you want credit for making the NFC playoffs? Fucking Missouri could make the NFC playoffs. You want credit for beating Minnesota in that Wild Card game? Your little sister could score on the Vikings defense, and probably has. None of it means jack shit.
But please, go ahead and treat your mediocre, piddly shit little season as some grand harbinger of future dominance. You guys aren't even good when you win Super Bowls, so piss off down the street.
Yourcoach: Brian Daboll, who won the 2022 Coach of the Year award mostly by not being Joe Judge. Daboll's last job was as offensive coordinator in Buffalo, so his arrival in New York gave the Giants the same counterfeit respectability that the Bills possess and are currently seeing wither away as Josh Allen throws red-zone pick after red-zone pick, year after year. And Daboll doesn't even get Allen to work with at his new job. Instead, he's got this…
Your quarterback: AHAHAHAHAHAHAHA.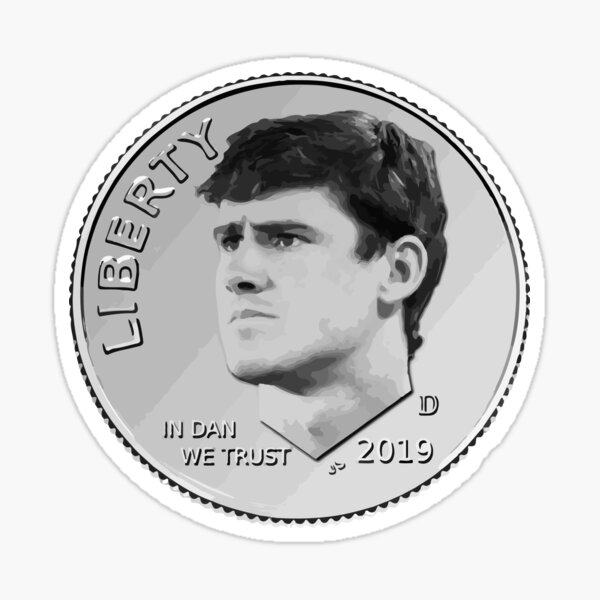 Thanks to that Wild Card triumph, the Giants felt obligated to hand Daniel Jones a contract with $82 million in guarantees, locking him in as their starter until at least 2024, if not much longer. So I hope you savored the flavor last season, Giants fans, because the next two years will be a hangover so terrible you'll need to check into the hospital at 3:00 a.m. for an IV bag.
As for Jones, if you'd like to know the key to his success in 2022, Aaron Schatz's Almanac lays it out plainly for you:
"Once Jones was out of the pocket, he was encouraged to take off if the first read wasn't open."
That's right. Daniel Jones has been in this league for four years and still needs the 1995 Nebraska playbook to have any chance of succeeding. If Jones can't run with the ball and needs to, you know, go through his progressions, you are fucked. Daboll milked a career year out of Jones by dumbing his offense down the maximum amount, and his QB still only had 3,025 passing yards and 15 TD passes to show for it. Real 1977 shit.
This is what you're paying more than $40 million a year for. This is your reward for winning a playoff game against a nonexistent defense. This is the lunch that Dave Gettleman left in the office fridge before fucking off, and now it's your dinner. I hope that Gettleman takes a victory lap over Daniel Jones becoming The Guy right before Jones goes back to playing like Swaggerless Ryan Fitzpatrick. Good fucking god, what a mistake.
Behind Jones is Tyrod Taylor. Behind Tyrod is a guy named Tommy DeVito, who once did a hit job for Christopher Moltisanti and then was killed by Tony Soprano for making a wisecrack about Tony's shirt.
What's new that sucks: The Giants took that lone playoff win as an excuse to indulge in their favorite pastime: continuity. By God, this organization loves its continuity. A 9-6-1 season that doesn't include a failed QB sneak on third-and-9? BOOYAKASHA. Mister Mara could live in this world forever.
And guess what? He will. New GM Joe Schoen signed Daniel Jones to that fat deal not only to keep his demonstrably average QB from leaving the nest, but also so that he could save his franchise tag to use on RB Saquon Barkley instead. Barkley lived up to his draft status for once in his life a year ago. He's also never healthy, a terrible receiver, and plays a position that no smart team will ever heavily invest in. But he's been a Giant for five years now, which makes him a priceless asset if you're John Mara and you fear any change that isn't a pair of dimes. So Jones stays, Barkley stays for now, and even Sterling Shepard is still here! And I heard he's healthier than he's ever been! This team's operating model is Loveless Marriage.
Schoen didn't sign Barkley to the kind of crippling deal he bequeathed to Jones. Instead, he let Barkley hold out on the tag and then strong-armed him into taking to a one-year deal for $11 million. After that, the Giants will bail on Saquon and then this offense, against all odds, will get even worse. This is growth in New York.
Elsewhere, it's your guys' turn to—say it with me—regress to the mean. The Giants attempted to shore up their woeful run defense this offseason by signing DTs A'Shawn Robinson and Rakeem Nunez-Roches. They also gave DL Dexter Lawrence a new deal, giving New York the kind of batshit crazy D-line that won it a couple of titles earlier this century. That's the good news. The bad news is that the CB room remains thin, with first-round pick CB Deonte Banks the team's best hope for keeping guys like Lamb, A.J. Brown, and Terry McLaurin in check while Jones struggles to put up 203 yards passing on the other side of the ball. Schoen also just traded for LB Isaiah Simmons, who sucks. So instead of running the ball up your asses, opponents will simply air it out over them, and to spectacular effect.
In an effort to juice the Giants' own passing offense, Schoen drafted Tennessee speedster Jalin Hyatt in the third round and added him to a threadbare receiving corps that now includes Darius Slayton, Shepard (for three weeks), Isaiah Hodgins, and new arrivals Parris Campbell, Jamison Crowder (yes he's still in the league) and UGHHHHHHHH Cole Beasley. None of these guys will remind you of Tyreek Hill anytime soon. Especially Beasley, who is both old and a dipshit.
But Schoen mitigated their collective mediocrity by trading a third-rounder to Vegas for stud TE Darren Waller. To be a Giants fan is to wish every day for the second coming of Mark Bavaro, and here now is Waller to make that dream come true. Except that Waller has missed half of the past two seasons to injury, is 31 years old, and is one of those tight ends that everyone assumes is still good because he's tall but is already over the hill.
But I don't wanna kill your excitement, Giants fans.
Just kidding. I live to shit in your Busch Light. Your O-line is still ranked second-to-last by PFF going into this season, even with OT Andrew Thomas getting an extension and OT Evan Neal being drafted a year ago. So Daboll is still gonna have to roll out Jones on every play to chuck the ball a yard short of the sticks. Fucking frauds. The Jets are way better than you right now.
Why the players think you suck: The union gave the Giants good marks across every category of their survey, but still didn't rank them first overall. Almost like you're less than the sum of your parts. Again, this is just the sort of long-term adequacy that makes the Mara family the envy not just of the league, but of all hard-working Americans.
What has always sucked: For John Mara, flukiness is the business model. He won titles in 2007 and 2011 with a retread coach and a dimwit QB. Both of those teams are remembered much more for who they beat than for who they themselves were, and the NFL is a much different league than it was even just a decade and change ago.
No matter. The Giants still believe they can be the showcase NFL franchise simply by reaching a slightly above-average threshold and then staying there forever, making the occasional run and cultivating unexciting great players who go on to become unexciting television personalities. That's why Jones got his deal. That's why Daboll and Schoen will keep their jobs for the next 10 years and more. Expectations here are quietly minuscule, and never budge.
That goes for these fans, too, who fucking hate the Giants no matter how much they overachieve. These fans are perfect New Yorkers, even if the majority of them hail from dumpy Jersey towns like Grubway and Port Ruckus. All of them live to cross their arms and look pissed. They hate their jobs. They hate their families. They hate their lives. Their favorite part of any week comes when the New York Post runs a mildly clever wordplay on the backpage after a 10-7 loss to the Eagles. They're like Jets fans, only less fun. I swear it's true. The liveliest you'll ever see Giants fans is when they get to dress up in blue collar cosplay for the tailgate and scream HEY FUGGIN' WATCH IT ESSHULL!!! at anyone who comes within five feet of them. Otherwise, they're all Billy Crystal getting divorced.
You guys are worse off for that playoff game than my team is, and I bet you couldn't be happier about it. I wouldn't hang out with you if there were money in it.
Neither Mara child can act.
Ratto says: The Giants bought a lot of early cover by winning six of their first seven by an average of four points … so much so that most folks forgot that they also finished 3-6-1. So it's okay to be skeptical, especially after Dimes got paid and Barkley didn't. The Giants have been largely horrific since their last Super Bowl (only the Jets, Jags and Browns have a worse aggregate record), but they have been a very safe under bet because of that. So while you should tamp down your hopes viz. a seven-win season, at least you can make some money off them along the way. Besides, Aaron Rodgers will retire soon and then the Giants can have the back page of a dying industry all to themselves in due time.
What might not suck: Kayvon Thibodeaux isn't just getting better, he's also getting funnier. I hope he doesn't turn out to be a shitbag.
HEAR IT FROM GIANTS FANS!
Todd:
Was last season a wonderful surprise? Sure. Is it going to happen again? Absolutely fucking not.
Rob:
After they gave Daniel Jones $160 million, I stared out the window for an hour thinking about death.
Scott:
Just once, I want to have a QB who does not have a face that you want to punch repeatedly.
Brian:
Because their response to the Eagles turning themselves into Voltron was to sign Daniel Jones to a long-term contract.
Seamus:
Kirk Cousins will burn in the fiery depths of hell with his hero Margaret Thatcher for making people think Daniel Jones is good.
Jeff:
Daniel Jones just got a nice contract, so I expect him to throw at least two interceptions a game before getting injured halfway through the season.
Tom:
My grandfather has been a season ticket holder of the Giants for over sixty years. Every year, no matter how bad they are, I drag myself into the middle of the swamp just to watch them get blown out by Cooper Rush.

We can't even claim moral superiority over the Jets for acquiring a virulent anti-vaxxer, because as I type this we just signed Cole fucking Beasley.
Ben:
Two years ago I was basically a single-issue voter, and that issue was "Fire Dave Gettleman". I did not root for this team to win games. I did not root for Daniel Jones to take the next step. I did not root for Saquon Barkley to stay on the field. I rooted for loss. For embarrassment. I needed Daniel Jones to faceplant as evidence of Gettleman's incompetence. I pitied Saquon for wasting his prime years on this team and prayed that he would one day get the chance to escape and find success with a stable franchise.

One year into the Daboll regime, with Gettleman finally jettisoned, the only thing on my sick, stupid, fan brain is SUPER BOWL. I am out here defending Danny Dimes's new contract to Xwitter eggs, telling them to prime themselves for another playoff run because he "proved it" last year, despite the previous three years of league-leading fumbles, injuries, and the trip. Recency bias? Never heard of her.
Matt:
Daboll looks like he should be the shitty fourth member of a mid-card WWE stable.
Jared:
The Giants paid Daniel Jones, who sucks. The Giants won't pay Saquon Barkley, who rocks. And it's probably the right call.
Jared:
MetLife Stadium is the David Zaslav of NFL stadiums. No personality and everything that its turf touches ends up ruined.
Jonathan:
We're a corporate fan base. It's like rooting for Deloitte. Daniel Jones could be a dude that's on your Zoom meeting talking about quarterly numbers. Even the Joe Judge years didn't make the fanbase interesting.
Ryan:
What was it all for? A win against your fraud-ass Vikings, a nationally broadcasted swirlie by the fucking Eagles, and a follow-up season that has 7-10 written all over it.
Erik:
Daniel Jones' eyes are too close together. You can't convince me that this isn't why he lacks situational awareness and can't read coverage. ZERO peripherals. He would eat in a league where quarterbacks are forced to wear horse blinders.
Jim:
People think they're gonna be good again! Surely an offense built around Daniel Jones's legs is sustainable!
Ian:
Our best player plays a position that ages as well as a sandcastle. Our QB is at the "score a good contract" stage of the Ryan Tannehill life cycle, and the best thing I can say about him is that he kind of vaguely looks like Ash from Evil Dead (to me, if I'm drunk enough).
Liz:
Because I was more concerned with Drew's feelings as a Minnesota fan than I was with my own team winning that game during the playoffs. And because I have face blindness when I see Daniel Jones.
Phil:
The Giants have two settings: Suck or Championship, either of which can emerge from the 9-7 season they always seem to have.
Steve:
I went from staunchly anti-Daniel Jones to full believer so fast I no longer think I could never be talked into joining a cult. Maybe I already have been.
Scott:
There are still Giants fans who think that Dave Gettleman did a great job.
Evan:
It's fun when your team is watchable for the first time in forever, and I'm sure the legion of angry tri-state dads storming into this drab stadium, resplendent in their brand-new Dan Jones jerseys, will be 100 times more annoying than ever before. These are my people and I wish them the best.

Forgive me, but when one of the keys to your success next season is "please just keep winning games by 1.67 points somehow," I'm gonna pump the brakes on the idea that you've got it all figured out. The majority of skill players on this roster still demonstrate a complete lack of ability to, say, catch a football. The quarterback can only run in one direction and is going to get bodyslammed so violently this season I will feel the thud in my living room. I still can't name a linebacker on the roster, so I'm sure the defense will be great.
Charlie:
Week 1, Titans: Randy Bullock misses a 47-yarder as time expires. Giants win.

Week 7, Jaguars: If Christian Kirk extends literally six more inches at the goal line on the final play of the game, he scores and the Jags win. He does not. Giants win.

Week 15, Commanders: Commanders got completely fucking hosed on a missed defensive PI call on their final goal line play with under a minute left. Giants win.

The Giants were NOT that good last year, and were three plays away from going 6-10-1. And I am scared to death that there is going to be a regression to the mean this year.
Ed:
For briefly thinking that good things were possible, I was rewarded by having to watch the inevitable loss to the Eagles at a work event for my wife's company, full of hundreds of dipshit Eagles fans. Fuck me, it was terrible.

That was probably the best case outcome for this team the way it's currently constructed. We're at the point where the team is threatening to not be good nor terrible, but unremarkable forever. We're on the verge of driving the most exciting player on the team out of town (how is this happening AGAIN?) and we'll be leaning on our unflavored, non-fat ice milk quarterback to recapture the adequate competence he showed last year. Somehow I doubt we'll be so lucky. They will be difficult to watch but at least they'll be predictable again.

Fuck Dave Gettleman for all of eternity. Fuck Joe Judge. And fuck our dumbass fans who think the team is better off without players like Saquon and Odell.
Jose:
Jones breaks off a 20-yard run and most of the fanbase (myself included) creams their faded denim. 70% of our fanbase only root for this team because "The Cops" aren't a pro football franchise. Taylor Ham sucks. Fuck you.
Tyler:
We started 7-2 last year, yet every Giants fan was at least a little bit surprised when we made the playoffs.

The Giants are playing in Vegas on my birthday this year. That's a whole lot of bad decisions in one sentence.

Fuck Evan Engram. Dave Gettleman should be tried at the Hague.
Todd:
Our run defense strategy was politely asking RBs to wipe their feet on us before they walked into the end zone.
Jen:
It is great having a coach whose head is not completely up his own ass. His decisions made sense and won close games. However, there are several reasons to suspect Coach Daboll will be in for a sophomore slump.

1. Daniel Jones may have played the best year of football he will ever play.

2. What are the odds that Saquon Barkley's knee will hold up for two seasons in a row?

3. The Giants were so thin at receiver last year they were dragging random people off the street to play the position.

4. A harder schedule.
Ryan:
Russell Wilson, universally regarded as an embarrassing season and a disastrous waste of money. 2023 Cap Hit: $22M

Daniel Jones, a season cited by most Giants fans as proof that DJ has finally arrived, even though he was only responsible for 22 TDs. 2023 Cap Hit: $21.75M
Cindy:
I look around at all the young, strong, athletic, talented, shiny quarterbacks in the league—Patrick Mahomes, Joe Burrow, Jalen Hurts, Josh Allen, Lamar Jackson, Justin Herbert, Trevor Lawrence—and I think, "The next decade of football is going to be a lot of fun." Then I remember that the team I root for signed Daniel Jones to a four-year, $160 million contract.

I'm glad that I'm old enough to have watched, and loudly celebrated, Super Bowls 42 and 46, because those are the last two Super Bowls the New York Giants will be winning in my lifetime.
David:
Winning a Super Bowl means nothing for the Giants because when they get confident they get brain damage.
Andrew:
The greatest player in franchise history is a registered sex offender.
Nick:
January 2003: my college girlfriend is in the hospital with her tonsils removed. I am hanging out with her post-op to make sure she is comfortable and to earn brownie points with her parents. While she takes a nap, I start watching the Giants play the Niners in the playoffs. The Giants are leading 35-14 in the third quarter, when the human incarnation of how Trump supporters view themselves, Jeremy Shockey, drops a TD and forces us to kick a FG. HC Jim Faseel (RIP) decides to pull Tiki Barber to keep him fresh for the next round.

As all fans know, the Niners come back, but miraculously the Giants are still in a position to win the game with a walkoff FG. It is at this point my girlfriend wakes up and begins projectile vomiting blood all over herself and the bed. The sutures in her throat tore. While calling for a nurse to help me, I watch Trey Junkin snap the ball into the ground and the Giants season goes up while I am living a scene out of The Exorcist.

My girlfriend was fine. Her almost bleeding out was the second worst part of my day.
Jeremiah:
Let's remember some (alliteratively named) guys!

Andrew Adams

Ben Bredeson

Carter Coughlin

Casey Kreiter (it counts)

Chris Calloway

Cody Core

Corey Coleman

David Diehl

DJ Davidson

Donte Deayon

Evan Engram

Graham Gano

Henry Hynoski

Janoris "Jackrabbit" Jenkins

Jerrel Jernigan

Joe Jurevicius

John Jerry

Mario Manningham

Micah McFadden

Owa Odighizuwa

Paul Perkins

Preston Parker

Reggie Ragland

Rueben Randle

Shane Smith

Sterling Shepard

Steve Smith

Terrell Thomas

Tyrod Taylor

Uani Unga

Most of this list just covers the past 10 seasons. I am choosing to believe this is statistically abnormal and also somehow the reason for this team's sustained mediocrity (I even omitted several names).

And who could forget everyone's former gym teacher, Joe Judge. I know you haven't.
JD:
Also, fuck DeSean Jackson and fuck Matt Dodge
Submissions for the NFL previews are now closed. Next up: Jacksonville Jaguars.
First appear at Why Your Team Sucks 2023: New York Giants