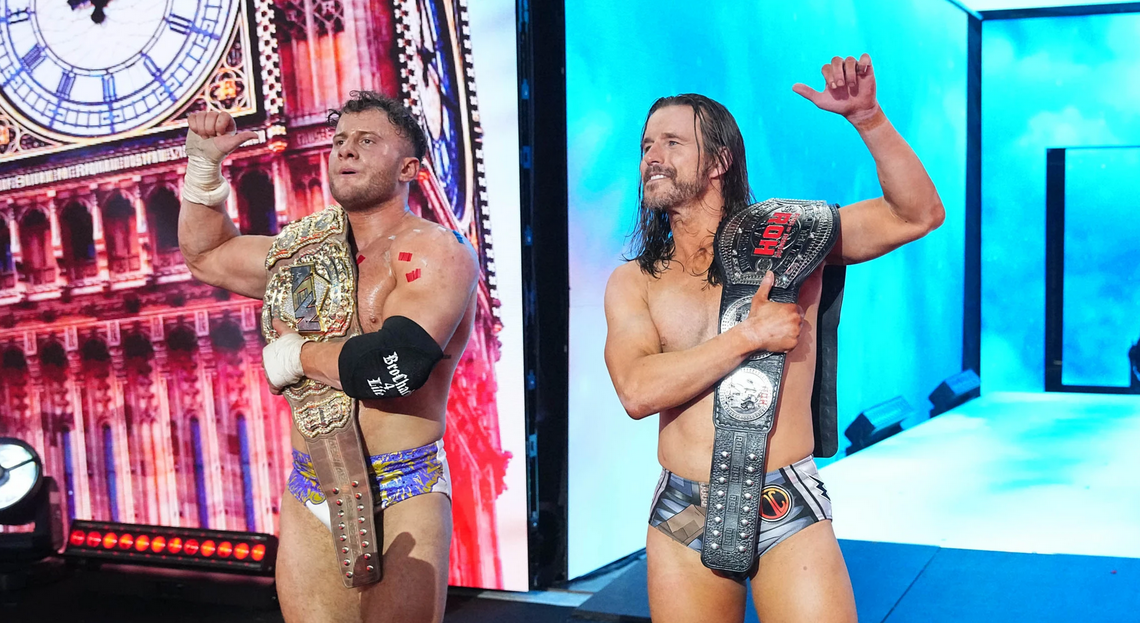 The backbone of booking professional wrestling is contriving reasons for people to hate each other. Fans pay money to see matches, and matches are built on scripted storylines, and conflict is a necessity of those storylines. A promoter's job, then, is to construct extreme versions of the kind of rivalries that draw viewers to real sporting events, and in All Elite Wrestling, the need for those kinds of stories has, in theory, never been higher.
Even in a year that's seen WWE widen the gap between themselves and their closest competitor, AEW's ambitions are grander than ever. In June they added two more hours of television, bringing back the prickly, polarizing CM Punk to carry that new show. On Sunday, they drew what the company announced as an all-time wrestling paid attendance record of 81,035 to Wembley Stadium for their first-ever show in Europe. And though they once limited themselves to four pay-per-views a year, they have another one coming up in under a week—the traditional Labor Day weekend Chicago show—and a brand-new one just announced for Oct. 1. That's in addition to a mid-September TV show at Arthur Ashe Stadium, their third visit to the biggest building that AEW plays annually.
Those shows, in addition to five hours of weekly TV, demand stakes, and therefore conflict. That's why Sunday's Wembley finale was such a bold choice. With the exaggerated melodrama of a silent film, the company again and again laid out paths to a divorce between two of its top stars, which could have easily led to months of matches continuing to pit the two against each other. Instead, the literal last image before the fade to black was one wrestler saying "I love you" to the other.
If you have done me the courtesy of reading this blog without keeping up on AEW stories, this paragraph is for you. Maxwell Jacob Friedman, or MJF, has been their champion since November. From the company's first year he's consistently been one of their top assholes, playing a fratty douchebag who insults the people of the city he's in while torturing the good guys in whatever way he can. He's extremely good in this role, so good that when he came back from a summer away one year ago, everyone was thrilled to see him. But he stubbornly stayed a villain until being paired in a tag team, against his will, with Adam Cole, who returned to the ring in March after almost a year of dealing with horrible-sounding concussion complications. Cole, a good guy, had previously wrestled MJF to a draw, and he wanted a shot at the title, while MJF never does a nice thing for anyone. But over several weeks, AEW told the story of an unlikely friendship, in which MJF learned to be more emotionally vulnerable and Cole found himself charmed by the champion's competitiveness and charisma as they found more and more common ground.
It helped that the matches these two had as tag-team partners felt completely different from anything else in AEW. The company is known for constant movement and non-stop ring action, almost to the point of sensory overload, but Cole and MJF stripped their matches down to tag-team basics laced with goofy comedy. With the novelty of their partnership, and the enthusiasm of the fans, they found a way to give gravitas to some of the simplest and most overdone moves in AEW, like this bare-bones dive to the outside that the crowd treats like a 630 through a ladder.
Running through their partnership was the anxiety that came with the crowd knowing that Wembley was around the corner, and that AEW would need a hot main event feud. Nobody at the arenas wanted a break-up—the chants of "hug it out!" were immediate at any sign of dysfunction between the two—and the company ultimately decided to have the two face off in London as better friends than ever, after a distraught MJF refused to turn on Cole after a loss.
In the very first match at Wembley, MJF and Cole won the tag belts of AEW president Tony Khan's streaming-only promotion, Ring Of Honor. And after a very good and often quite violent series of matches on the undercard, they returned to the ring for the big title bout. MJF took the good-guy role, while Cole, showing a increasingly intense desire for victory, drew more and more boos as a heel. But in the climax, after several ridiculous twists and turns, Cole refused his old buddy Roderick Strong's urgings to cheat and ended up caught by MJF for a fluke loss. In a role reversal of their last defeat as a tag team, every aspect of the storyline wanted to make you think Cole would go full-on villain, but in the post-match, they did in fact hug it out, to a huge ovation punctuated by fireworks and confetti.
In some ways, this ending calls to mind the most famous wrestling match in Wembley history, at SummerSlam 1992, in which Bret Hart lost to his brother-in-law The British Bulldog and, after teasing frustration, showed him respect afterward. But in that story, the two shared a common love in Diana Hart. This instance of peace between competitors felt more powerful because the storyline carried no specific reason why MJF and Cole needed to stay close. They're friends because they're friends, and their embrace in what would have been the perfect spot for a classic wrestling ambush further establishes AEW's unique vision of masculine heroism when compared to their U.S. TV predecessors. It also means that, six days out from another PPV, there's no hint at what the headlining match could be. That's a risky decision. But it made for a memorable and well-earned ending in front of an AEW crowd that, most likely, will never be this large again.
What's funny about the company taking this on-screen path of non-violence, however, is that All In also brought another backstage mess involving its most controversial star. Nearly a year after the now-legendary post-show brawl between CM Punk and The Elite, which has yet to be resolved beyond muffling everyone with NDAs, Punk reportedly got into it with Jack Perry (yes, son of Luke) just before he entered the ring on Sunday. Punk and Perry had a reported argument at a TV taping earlier this summer in which Punk vetoed Perry's wish to use real glass in a backstage segment. During his own match directly before Punk's at Wembley, which involved the smashed windshield of a limo, Perry looked directly into the camera and said "'Real glass! Go cry me a river."
One side says that Perry confronted Punk, and a shoving match led to Punk putting him in a hold. Other versions say Punk confronted Perry and threw the first punch. Either way, Tony Khan confirmed an "incident backstage" that is now under investigation. With a big show in Punk's hometown set for next weekend, it's hard to imagine him catching a suspension. And those on the roster who don't like Punk, but are typically kept away from his Saturday TV show, are set to be there as well. This tension is tailor-made for a blockbuster wrestling storyline, but for now it has stayed confined to online gossip. Khan clearly doesn't know how to make his roster coexist behind the scenes. But in front of the cameras, where he's mostly in control, AEW can still be a promotion where love comes first.
First appear at The Biggest Wrestling Show Ever Was About Friendship (And One Little Backstage Fight)