Rockies pitcher Ty Blach was three pitches into the bottom of the first when it happened. The game was delayed. Colorado and Baltimore would not be able to resume play until a bee swarm was removed from the outfield at Camden Yards.
The bees congregated in left field. The Rockies' Nolan Jones moved away and motioned to Baltimore groundskeeper Nicole Sherry about the buzz in the outfield. Orioles bullpen coach Tim Cossins told the brodcast: "We have a bee situation out here." The Baltimore Banner also helpfully adds: "At one point, Mr. Splash in the outfield Bird Bath section sprayed water at the bees." The Baltimore Sun got an official statement from the team: "The swarm has been identified as honey bees, and are now calmed down." Yeah, no thanks to Mr. Splash!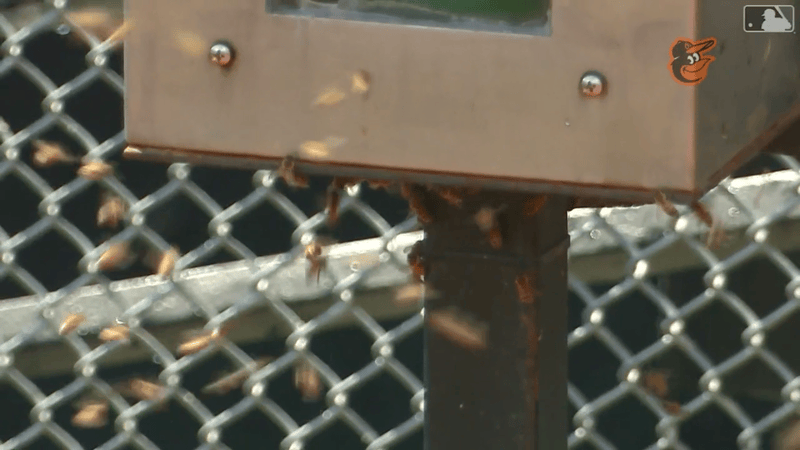 A job well done to the camera operators from the game telecast: They captured some excellent bee reaction shots.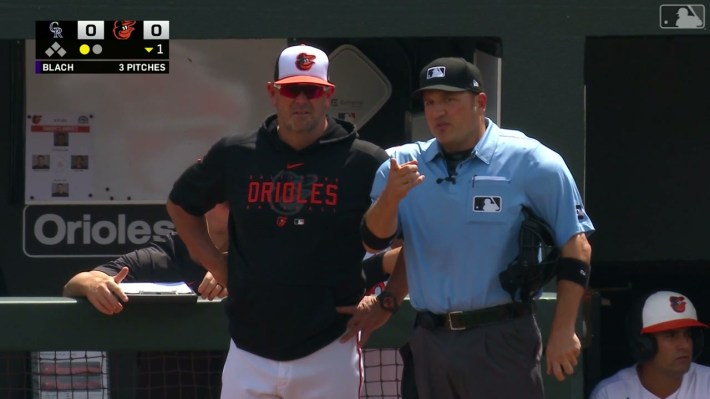 Bees swarming games happens occasionally. In 2019, a San Diego home game was delayed for 28 minutes because of a bee swarm. The Padres seem to attract bees! Players had to duck for cover in the Padres' final home spring training game of 2017 when bees swarmed the field. Earlier that year, Padres' batting practice was delayed because of bees. It seems to happen most often at spring training; bees are most active during spring.
What was impressive about Baltimore's bee delay is it only lasted five minutes. The Padres once had a delay of nearly a half hour! That's un-bee-lievable.
First appear at Bees Buzz Baltimore Bullpen, Bother Buff Baseball Bros