It's no way to live your footballing life. You're being well beaten at half-time. You trail the tackle count 43 to 23. You're lucky not to be further behind. You send Rory Lobb, who's no Gary Dempsey, into the ruck. You kick three goals in two minutes. You overrun your bogey side and get the four points in Geelong for the first time in twenty years.
You then have to wait. You stew for 20 hours. Your finals fate, for the second year in a row, is wedded to Carlton. You look at their outs – Cripps, Docherty, Pittonet, Motlop. You gather as a playing group. You point the Bulldog bone at Greater Western Sydney, your bitter rival, who have everything to play for. You watch a crackerjack first half. You cannot imagine Carlton, who'll finish fifth no matter what happens, having the motivation to sustain that for four quarters. You watch the very impressive Giants skip away to a five goal win, and another season goes up the spout.
It was a fitting end to the most frustrating of seasons for the Western Bulldogs. They finally got their win in Geelong. They may well have the Brownlow medallist and All Australian captain. They'll almost certainly have the All Australian ruckman. But it was another lost year. As always, they were determined to make things as difficult as possible for themselves. As always, they were a lopsided, occasionally astonishing and frequently bewildering team. They lost so many close games. They've coughed up so many leads. They left the Sydney and Geelong games on the table. They were scuttled by Toby Greene in Ballarat. They lost to the 16th and 18th placed teams in the space of seven days.
"You reap what you sow," Luke Beveridge said on Saturday night. Of all the senior coaches, and of all the prominent people in football over the last 10 years, he's the hardest to get a proper read on. Assessing someone like Damien Hardwick is easy. There's a trajectory. There's the clean out, the build, the heartbreak, the rock bottom, the sudden rise, the sustained dominance and the petering out.
But there's no clear pattern and narrative to the Luke Beveridge story. In amateur footy, it couldn't have been simpler – C Grade Flag, into B Grade flag, into A Grade flag. No one had done that before. In the big league, it's more complicated. This is a club that's played in grand finals four times in 100 years. Beveridge has coached them to two of those. But he can also send his supporter base spare. His team is like one of those racehorses that always presents on the turn, but always finds trouble, excuses, and one better. You put them in the black book but they're a perennial puzzle, a tease. In quarters, in games, in months, and in seasons, they loom and drop away.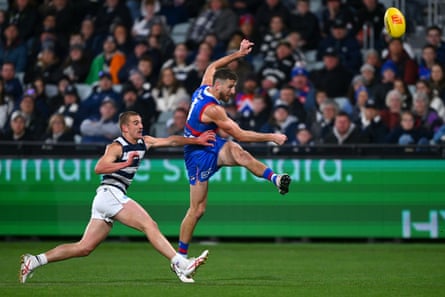 But just when you're about to give up on them, there is magic. Everything just flows. Sometimes it's a half. Sometimes it's a month. It buys the coach lot of time, a lot of influence and a lot of rope. Luke Darcy, a board member, Beveridge backer, broadcaster and father of a listed player, backed him in with a statement that, by his standards, was light on for the word "extraordinary". "He changed the paradigm of AFL coaching in many ways, and his recent record has been extraordinary," Darcy said. "He has been an extraordinary leader of the football club." The group, Darcy said, was "incredibly connected".
Extraordinarily connected, even. More than anything, they're lucky to have Marcus Bontempelli. "I'm ready to cut loose," he said in March. He pretty much does the lot. He's the complete Australian rules footballer. He drops back in the hole, lopes out the front of stoppages, creates, tackles, intercepts, leads, drags his team towards something resembling respectability. He'd be a worthy Brownlow medallist.
Changing tack, no one at the AFL or their broadcasting partners would ever admit it, but there's a sense that this home and away season dragged on too long, that the extra round was too much, and that most of the teams were limping to the line, or just completely cooked. Not so North Melbourne, who hadn't hit the broad side of a barn for five months, and had every incentive to play dead. One of Alastair Clarkson's former players, Tim Boyle, once wrote a column about a pre-season camp in Tasmania where groups of players divvied up into teams and competed in various activities – kayaking, rope climbing and the like. Clarkson was so disgusted with the lack of effort, and the lack of competitiveness, that he packed up and headed back to the mainland.
You reckon a man wired like that would ever tank a game of football? Their win, along with Franklin's farewell and Melbourne and GWS's form, were the highlights of a final round that didn't hit any great heights.
First appear at Baffling Western Bulldogs win, wait and stew, but are finally sent packing | Jonathan Horn