Producer ThankGod4Cody on Contributing to SZA's Recording-Breaking "SOS" Album: "She's So Cold"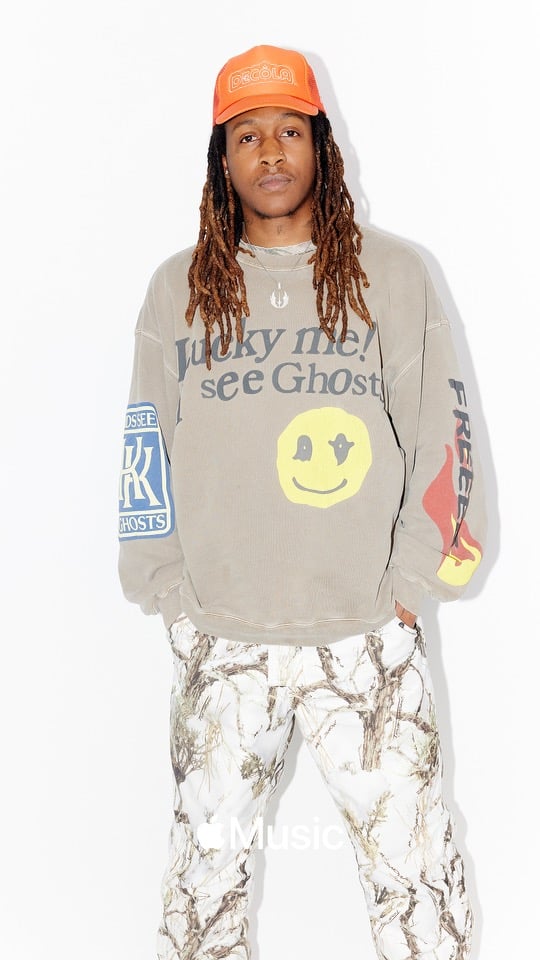 Image Source: Apple Music
ThankGod4Cody didn't anticipate how SZA's era-defining "Ctrl" album would completely change his life in 2017 — but he also didn't foresee waiting five years to get the call to work on her next album, "SOS." The 31-year-old Grammy-nominated producer, born Cody Jordan Fayne, caught a major break with his contributions to "Ctrl" — "Love Galore," Broken Clocks," "The Weekend," and "Wavy (Interlude)" — some of which are the biggest records on SZA's debut album. But it took years for him to find himself back in the studio with the R&B sensation to cook up her next musical masterpiece.
"Never in my life did I expect for the next one to be that long," Fayne tells POPSUGAR of the years-long wait for "SOS." "I didn't prep for that in the post time of 'Ctrl.' I wasn't pressed to work with people. I'm thinking, yo, we finna go back in again real quick, turn up again. Then it ended up being a five-year wait and I was like, 'Wow, I will never do that again.'"
"Like a divine connection that happened with us two in our sounds . . . You can't really describe it."
Fayne, a Memphis native who's also worked with the likes of Chlöe and Jay Rock, struck gold when he connected with SZA all those years ago. However, he says his breakthrough moment occurred before the two even sat down to work on "Ctrl." In fact, he credits another Top Dawg Entertainment artist for giving him his first big break: Isaiah Rashad, whom he met in Los Angeles in his early days through mutual friends.
"The breakthrough moment was actually working with Isaiah for all those years and having nothing happen, getting nothing from it," Fayne explains. "It was a breakthrough because, for me, that situation mentally didn't break me. So to be able to go through that and then run into SZA and us create what we created, it just gave me an understanding of what this process of chasing your dreams really is. It is going to be some valleys for sure."
Fayne's professional foray into music had its fair share of challenges because he was coming into it blind. "Growing up, I just wanted to get into music however I could," he says. "But coming from Memphis, I have no family in the industry or nothing at all. I honestly had no idea how to even find my way in." Insert Rashad — who Fayne partially credits for connecting him with SZA. But according to the producer, he and the "Shirt" singer really crossed paths when he was staying at a house in LA that TDE artists often frequented.
"I was working on a beat in one of the rooms on speakers and she just heard the beat through the wall type thing," he recalls, adding that the beat turned into SZA's 2014 song "Sobriety." "She was passing through the crib and she came in and was like, 'Yo, this is crazy. I want this beat.'"
From there, Fayne and SZA "kept running into each other at the same spot" until she eventually tapped him for more songs. "'Yo, if you're not doing nothing, you can definitely pull up. Help me make some more stuff,'" he recounts. "We just kept building chemistry from there . . . It's like a trust that was developed there to the point where, if she finds a beat of mine that she likes and she hops on it, I know for a fact that it's something. It's just a chemistry and a trust there that she might pass up 50 of my beats, but if she finds one and she hops on it, it is the one, and that is a for sure thing."
Fayne compares his collaborative relationship with SZA to that of dynamic duos like Metro Boomin and Future, noting that their musical bond "naturally blossomed out of nowhere." "Like a divine connection that happened with us two in our sounds," he adds. "It's just been growing and getting better and better. You can't really describe it . . . She's so cold."
"I knew it was going to go crazy but it was impossible to gauge this, whatever it's doing right now."
The close connection the two have nurtured over the years is largely why Fayne was recruited for "SOS," serving as the album's main producer, who also coproduced seven out of its 23 tracks — "Love Language," "Conceited," "I Hate U," "Notice Me," "Gone Girl," "Seek and Destroy," and "Too Late." Though some of the project's songs were recorded right after "Ctrl" was released, Fayne says that the final two months before "SOS" dropped on Dec. 9, 2022, was when they really locked in to craft what has now become SZA's record-breaking, history-making album. "I knew it was going to go crazy but it was impossible to gauge this, whatever it's doing right now," he shares. "But it's beautiful to see it. It's all deserving to her for sure."
Working on SZA's "SOS" gave Fayne another opportunity to prove his skills as a producer, but he says it also gave him a chance to expand his portfolio in new ways. Of working on songs like "Gone Girl" — which Fayne coproduced alongside Carter Lang, Emile Haynie, Jeff Bhasker, and Rob Bisel — he says it was an overall "crazy" process because "so much work went into that one song." "But I was so proud of the final product," he adds. "To produce something like that that was just different from a lot of the other things that I've done."
"SOS" is still enjoying its weeks-long streak on the Billboard 200 — now in its 10th week atop the charts, one of the longest runs for an album by a woman in nearly seven years — and will likely continue a while longer with SZA currently touring the album and gearing up to release a deluxe version of it — which Fayne says contains tracks that were good enough to be on the original. Though he remains tight-lipped on further details, he teases, "People won't really believe what she was, what she's still sitting on right now."
While it's still too early to predict the impact of "SOS" and how it'll measure up to its predecessor, it's clear that SZA's album successfully avoided the dreaded sophomore slump curse. Between setting new records alongside icons like Taylor Swift and Adele, and pushing boundaries once again for R&B, Fayne believes that "SOS" will go down as "one of the biggest albums by an artist ever."
Producer ThankGod4Cody on Contributing to SZA's Recording-Breaking "SOS" Album: "She's So Cold"