Ghostface Terrorizes Jenna Ortega, Melissa Barrera, and Courteney Cox in the "Scream 6"
Trailer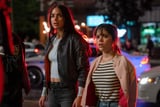 This is Ghostface like you've never seen him before. The full trailer for "Scream 6" is here, and it brings Ghostface's terror right to the heart of New York City, where he torments some of the characters fans know and love, including Courteney Cox's Gale Weathers. "You know you're like the tenth guy to try this, right? It never works out for the dipsh*t in the mask," she warns Ghostface. But it looks like this Ghostface is unlike any threat any of them have faced before.
Back in February 2022, Deadline confirmedthat the sixth installment of the cult-classic franchise was underway, with directors Matt Bettinelli-Olpin and Tyler Gillett set to return, along with a host of familiar faces. "Working with such a wonderful and talented family of creators – and in the lineage Wes [Craven] and Kevin [Williamson] so expertly built – has been the thrill of a lifetime and we're so excited to bring the next chapter in the Scream saga to life," Bettinelli-Olpin, Gillett, and executive producer Chad Villella told Deadline in a statement. James Vanderbilt and Guy Busick, who cowrote 2022's "Scream" and now "Scream 6," added: "Is this real life? Getting to collaborate once again with our friends on the next installment of the Scream story is more than we could have hoped for. We are overwhelmed that we get to continue to play in the sandbox that Kevin and Wes created. It is, as Ghostface would say, an honor."
"Scream 5", released in January 2022, brought back franchise stars Neve Campbell, David Arquette, Cox and more, and introduced the new group of teens who will return for "Scream 6." Read on for what we know about the sequel.