Chase Stokes Seemingly Confirms He's Dating Kelsea Ballerini: "We're Having a Good Time"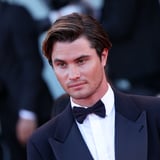 The "Are Kelsea Ballerini and Chase Stokes dating?" saga continues. On Jan. 13, the 30-year-old "Outer Banks" star shared an Instagram carousel in which he snuck in a photo of him and the 29-year-old country-pop singer getting cozy at the College Football National Championship Game. While Ballerini's face isn't shown, Stokes tagged her in the snap. "go vols 🙈," she commented on the post.
Raising Cane's Chicken Fingers founder Todd Graves also shared photos from the Jan. 9 game day on Instagram. In addition to the couple, celebrities including Dylan Sprouse, Lauv, and YG were in attendance, though Stokes and Ballerini appeared close in one group picture.
The "Roses" singer inadvertantly addressed the dating rumors days later. On Jan. 16, the country singer posted a TikTok featuring a screenshot from gossip site DeuxMoi that claimed there was "no chance" she's dating Stokes because she's "too busy consistently asking out the manager of Soho House nash when she comes in all the time after last call." In the video, Ballerini laughs and shakes her head at the post.
"I know, I know, I know, I know, stop reading, stop looking," she said. "But what is happening guys? What is this? Let's not do this." Ballerini went on to caption the video, "I'm about to break up with the internet 5 sure 😂."
Now, it's Stokes who's addressing the rumors. A TMZ photographer ran into Stokes on Jan. 17 and quizzed the actor about what exactly is going on between him and Ballerini. When the photographer said he and Ballerini make the cutest couple, he responded, "Thank you," seemingly confirming they are dating. When asked what drew him to the singer, Stokes said, "She's a sweet girl. We're having a good time and that's all I'll say." He stopped short of confirming they were "officially" an item, however.
So it's still unclear whether or not Chase Stokes and Kelsea Ballerini are officially a couple, but they're definitely seeing one another. Reps for Stokes and Ballerini did not immediately respond to POPSUGAR's initial requests for comment on their relationship.
Stokes was most recently linked to his "Outer Banks" costar Madelyn Cline. The two first met in 2019 as John B and Sarah Cameron, reportedly splitting in November 2021 after more than a year of dating. However, they sparked reconciliation rumors in March 2022 when they posed hand in hand on set while filming the third season of their Netflix series.
Ballerini, on the other hand, split from fellow country musician Morgan Evans in August 2022. She filed for divorce after nearly five years of marriage and later confirmed the news on her Instagram. The former couple first met while hosting the CMC Awards in March 2016 and later got married in December 2017.
Take a look at what might be Stokes and Ballerini's low-key Instagram debut in the third slide below.