Aubrey Plaza Relives Her Chaotic
SNL
Audition Before Hosting Debut: "My Master Plan Worked"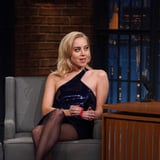 Aubrey Plaza is about to host "Saturday Night Live," but it's not the first time the "White Lotus" star has spent time at 30 Rock. In an interview with Jimmy Fallon on Jan. 16, Plaza revealed that she once auditioned for SNL and brought a few very strange characters to the table in the process.
"I didn't make it to the Lorne [Michaels] audition, the famous final audition, but I did a preliminary first-round showcase," Plaza said. "I remember one character I did was like a Puerto Rican news reporter that was always trying to make all of the news stories sexy, even if they were horrific news stories. I was just trying to like, sex up the news or something."
She then described another even more extreme character – "a pill-popping housewife that had a show called 'Celebri-Tails,' where I would just name celebrities and name what kind of tail they would have if they had a tail," she continued. "Like I would say, 'Lindsay Lohan would have a bushy squirrel's tail.' Or, like, 'Bill Clinton would have a polar bear's nub.'"
Plaza didn't wind up making it on the show, though before auditioning, she had interned for the design department from 2004 to 2005. "They loved me because I did not care about set design at all, and they wanted an intern that had no interest in learning what they did," Plaza told Fallon, saying she didn't really interact with the cast, instead spending most of her time "lurking in the shadows." "I was just, like, creepy," she said. "Like, I was a creepy stalker. Now I'm gonna host it, so my master plan worked!"
Of course, she eventually did get her big break on "Parks and Recreation" starting in 2009. Now, her role as Harper in "The White Lotus" has netted her a Golden Globe as part of the ensemble cast as well as a fair amount of solo attention.
Plaza will host "Saturday Night Live" Jan. 21 alongside musical guest Sam Smith.